News Roundup 24/07/12
Chapel Club Announce Special Gig In London
Ahead of the release of Chapel Club's highly anticipated second LP Good Together, the group have announced a special one off show at Birthdays in Dalston. The gig one August 1st will be a fascinating insight into the newly evolved and happier version of Chapel Club, the tracks that have been previewed from the new album see Chapel Club taking a stylistic left turn, changing from an guitar buzzing shoegaze group to an electronic dance sound. An interesting time to catch a band in a state of change.
Tickets available from here
Russian Punks Jailed For 6 More Months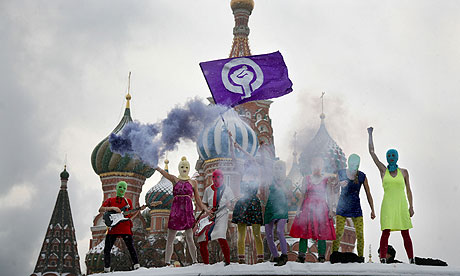 Pussy Riot the infamous Russian punk 3 piece female group have been sentenced to further time in prison. The group were initially jailed in March for staging a protest against Russian President Vladimir Putin at a Moscow Church.
The arrest was made under the claim of 'Inciting hooliganism' and the trial began on the 20th of July. All three members of the group will be remanded until January 2013 and their lawyer is already calling the proceedings a "Show Trail". Believing that the Russian elites will prosecute the dissidents to the full extent of the law regardless of their guilt.
More to follow as the trial continues.
Flying Lotus Collaborates with Earl Sweatshirt
Highly revered LA producer Flying Lotus has released a one of single entitled 'Between Friends' in a collaboration with Odd Future's Earl Sweatshirt and Captain Murphy. The single is the characteristic chilled out and hazy production that we expect from Flying Lotus whilst Earl and Captain Murphy freestyle on top.
'Between Friends' will not feature on FlyLo's new LP however. The song is part of the weekly Adult Swim Series that has begun in the US and will therefore not appear on Until Quiet Comes – out on 2nd October. Other entries in this series of singles from Adult Swim will be Death Grips, Wavves, Com Truise and Gauntlet Hair.
Listen to the track here: